Theatre play for parent/carers and their children
Aged 18 months – 4 years
There is something uniquely magical about a drama babes session. The key to its success is the validation of choice given, to the select young participants. Each toddler session is only open to a maximum of eight to ten children. This decision was made early on in our planning as we recognise the importance that the young children feel safe to express themselves and that the group is tailored to their individual needs; these small groups ensure that each child gains the opportunity and confidence to help shape our adventures and storytelling.
We run classes across Swindon and surrounding areas (see below for classes). A no-commitment taster is always available and we don't ask you to pay a penny until you have tried the class out. You can sign up and sample a session by clicking on the enrol button above, or email Sally at dramababes@revolutionpa.co.uk.
We are also very aware that signing up for a term with a child can be tricky…. illness, day trips, funny moods can all make it very difficult to make every session. With this in mind we treat your membership with great flexibility – if you have to miss your regular session you are welcome to attend any other session that week at any of our settings. Just drop us an email to let us know (dramababes@revolutionpa.co.uk)
Prices and Term Dates 2016-2017
For all our pre-school sessions. classes are paid termly at £72 per child for the twelve week term, (or £36 per child for 6 week half-term blocks is available on request). All our sessions are with a 25% discount for siblings. Classes are payable by cash or cheque, made payable to 'Revolution Performing Arts'. Please note – even though we do ask you to sign up for a minimum of 6 week half-terms, we understand that from time to time making your class can be tricky (illness, work etc). For this reason if you ever can't attend your allocated session you are always welcome to bring your toddler to any of our sessions that are held within the week of the one you missed.
Term 1 – w.c 5th September – w.c 5th December (no classes w.c 24th October)
Term 2 – w.c 2nd January – w.c 27th March (no classes w.c 13th February)
Term 3 – w.c 24th April – w.c 17th July (no classes w.c 29th May)
Ethos
At Drama Babes, our aim is to use theatre to develop young children as individuals by encouraging their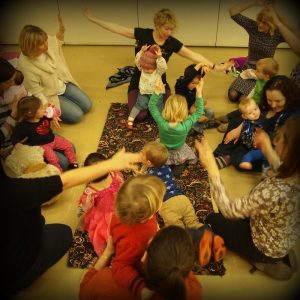 creative ideas and celebrating their choices. Toddlers adore creative play and are very good at it! Here at Drama Babes we allow children to have the freedom to express themselves through role play, puppetry, dance and song and use their ideas to go on magical adventures as a group with their new friends, mums and dads.
There will also be time for a chat afterwards where you can catch up with other parents and share your experience (…oh, those sleepless nights!) whilst the little ones play and eat their snacks in a safe environment.
What is Drama Babes?
Each week we go on a fantastic journey…we start off with a theme and then using story telling, props, waves of fabric, music and lots of imagination, we take ourselves off to a magical adventure. Whether it's diving under the sea, flying on our magic carpet, dancing with princesses or flying through space, maybe even catching up with Macca Pacca or Iggle Piggle…the children help us decide what we are doing and what (or who) we see in our own imaginary world.
Drama Babes encourages…
• Self Expression
• Confidence Building
• Making Friends
• Speaking Up
• Working Together
Reviews
To read our reviews, click here
Drama Babes Parties
We are delighted to be able to offer themed Drama Babes parties for current members and non-members. The party on any chosen theme will last for forty-five minutes and can be tailored for first to fifth birthdays.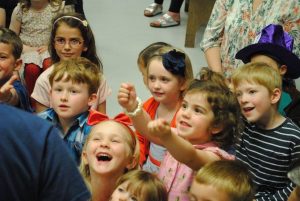 During the party the children will be given the chance to dress up in any of our large selection of costumes, take part in songs, puppet play, dancing and a magic carpet ride on the chosen theme. Whilst participating in the magic carpet ride into their imaginations each guest will receive a gift to remind them of their adventures. The parties are designed to be engaging, enchanting and a wonderful opportunity to bring parents and children together in a playful but structured activity. Parties are charged at £6.50 per child for current class members and £7.50 per child for non-members (a minimum of 8 children per party). Previous themes have included a fairy garden, peppa pig party, safari adventure, pirate play and Dino land….. We can work with any theme!
Sessions in Early Years Settings
We currently run successful sessions in nurseries, pre-schools and for groups of children with their childminders. We can tailor a session to suit your pre-school/playgroups needs. We currently run weekly sessions but also offer monthly or termly sessions to suit your settings requirements. Our pre-school sessions can be child-centred and entirely planned by us, or we can follow a more structured programme to fit in with what the children are currently learning about in your curriculum. Our Drama Babes, Easter, Christmas and Halloween themed parties have also been very successful for end of term fun in lots of nurseries and pre-schools! We also offer training for Early Years Practitioners on creativity and the early years curriculum. For more details on this please email Sally at dramababes@revolutionpa.co.uk
The Early Years Curriculum and Drama Babes
The Early Years Curriculum contains a series of outcomes that all practitioners should endeavour to meet when working with young children. Through the creative play offered by Drama Babes we are able to support and encourage the participants to meet several of these outcomes, including;
1. Communication and Language (our child centred workshops actively encourage conversation, expression and verbal reaction)
2. Physical Development (all sessions include movement work, watch and copy work)
3. Personal, Social and Emotional Development (each session we consider the emotions of the children and the characters they create, often working towards feelings of empathy or sympathy)
4. Understanding The World (each session considers the world beyond the child, our magic carpet rides take us to various locations, including visiting environments the children would have never visited)
5. Expressive Arts and Design (we encourage the children to embody characters and creatively express their emotions and roles).
Drama Babes engages with each child as an individual, encouraging and embracing the child's unique nature . In the words of one of the great educationists of our time….
"It would be a pity to sacrifice the inner person in order to produce a me clever zombie" (Peter Slade)
Our Teachers
Sally I'Anson BA QTS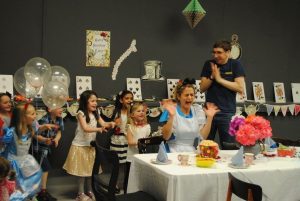 Sally manages Drama Babes and is a qualified Drama teacher with eleven years teaching experience. She graduated from 'Central School of Speech and Drama' in 2005 and has been Head of Drama, teaching in secondary schools in London before re-locating to Wiltshire in July 2015. Sally has taken shows to Edinburgh Fringe Festival and has written and directed plays for secondary aged children for a number of years. Having a 4 year old son and a baby on the way this year, Sally believes firmly in encouraging and enhancing little people's creativity and love of performance, in order to help them become imaginative and confident young people.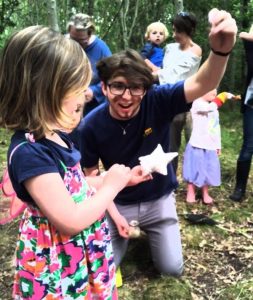 Jamie Carter
We are fortunate enough to have another hugely talented male leader. Jamie is extremely passionate about encouraging young people to grow in confidence, enthusiasm and creativity through the use of drama, song and dance in a playful and exciting manor. Jamie has been through several educational stages in performance including studying Performing arts, Musical theatre at New York Film Academy and University. He is defiantly the animal lover of the group; dogs, cats, rabbits, ducks, hamsters, parrots and even snakes tend to be his closest factors to his cuddly personality – just try and get our class teddy bear away from him! His upmost favourite thing about being in drama babes is getting to watch young people develop into open minded, brave and creative people.
Becci Smith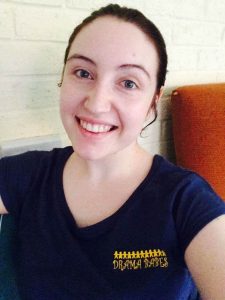 Becci is thrilled to have come on board with Drama Babes this year. She is a qualified primary school teacher, holding a PGCE with Early Years specialism. Becci also has a degree in Music and a diploma in Classical Singing. She has been working for Revolution Performing Arts for six months running after school clubs and wellbeing sessions as well as vocal coaching for Rapport. Becci has been acting and directing productions in and around Swindon since she was 6, more recently for theatre companies Madam Renards and TS theatre. In addition to Drama Babes and RPA she teaches Drama for the Charlotte Johnson School of Dance. She is passionate about nurturing young minds, raising aspirations, building confidence and encouraging creativity and imagination.
Supporting our Members with LOCAL COMPANY DISCOUNTS:
As part of your membership to Drama Babes we are very happy to be able to offer you the following discounts with the following companies (just mention that you are a member of Drama Babes when you contact them):
ZEN DEN
Click here
Rocco and Ziggy's mum, Sam, runs her own holistic massage business to chill you out after a crazy day chasing a toddler…..
Massage to make you melt…100% 5 star reviews at Zen Den. £5 off all massages for DB and DBR mummies and daddies.
GATECRASH THEATRE
Click here
Laura (Seren's mummy and Director of Drama Babes) is also the founder of a semi-professional theatre company based in Swindon. The company supports young performers aged 18 to 30 with weekly workshops, performance opportunities and mentorship in the arts. 10% discount to our workshops available.
THE MAVERICK MAMA
Click here
Indie and Mav's mum runs her own business supporting and selling gifts and products for baby, child and nursing mums. All of the products are made by fellow work at home mums. Becky offers a 10% discount for Drama Babes members.
N.B if you and your child are a member of drama babes and we can help you by promoting your company on here and offering a discount to our members then please let us know. We would love to do this!