RPA Holiday Sessions & Weekend Residentials
Seen our flyer and ready to book now? Just click here
Holiday Workshops? Read on…(scroll on down for residentials)
With Covid affecting so many young people's mental health this last year I thought it's time to bring back some lovely fun, encouraging lovely young people to let loose, feel free, joyous and fabulous!
All Venue/Leaders/Dates/Ages details below. All the courses are different and spread out throughout our RPA areas so you can attend more than week if you wish. Cost is £30 per day. 10% discount for booking for the whole week and a further 10% sibling discount. Our Ofsted registration is pending so there may be some scope to accept childcare vouchers so I'll keep you posted.
Young people need to feel great now so I am doing all I can. So shout out to all your friends and family and let's make some amazing memories this summer!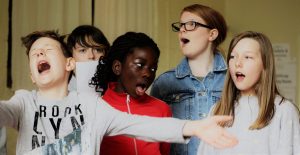 Our summer workshops are back at all the venues below. Times are: 9.30 – 3.30. Book now by clicking here.
26 – 29 July 2021

(11 – 16 years)

4 Days (M – Th)
Rapport – Lower Shaw Farm, West Swindon
Jim/Mae
2 – 5 August 2021

(4 – 11 years plus older siblings)

4 Days (M – Th)
RPA West – Lower Shaw Farm, West Swindon
Jim/Dee-Ann
2 – 6 August 2021

(4 – 16 years in seperate groups)

5 Days (M – F)
RPA Kaleidoscope – Pineholt, Gloucester
Geo/Dan
16 – 20 August 2021

(4 – 11 years plus older siblings)

5 Days (M-F)
RPA South – Legge House, Wroughton
Geo/Dan
23 – 27 August 2021

(4 – 11 years plus older siblings)

5 Days (M-F)
RPA East – Shrivenham Memorial Hall, Shrivenham
Geo/Beth C
Sessions will include:
Vocal Workshops
Dance Workshops
Acting Workshops
Songwriting Workshops
Physical Theatre Workshops
Arts & Crafts
Loom Bands
Den Building
Outdoor water fun
Nerf guns (without bullets)
Outdoor activities
Spaces are limited so we can meet each young person's individual requirements, have high adult: young person ratios and of course have lots of fun! For your reassurance, all RPA leaders have enhanced DBS police check and have received full safeguarding and first aid training.
Weekend Residentials…
BEST CHRISTMAS PRESENT IDEA EVER!
In 2018 we had our first ever RPA residential at Legge House in Wroughton. We had young people who had never attended a sleep over before and made the most wonderful friends! The young people said "it was amazing, best ever!", "it was like having a week long residential in one weekend, we did so much!" We will be holding amazing sessions from all your favourite RPA workshop leaders that will include:
Making a Film
Vocal Workshops
Street Dance
Acting Workshops
Songwriting Workshops
Physical Theatre Workshops
Arts & Crafts
Set and prop making
Singing & marshmallows around the Camp Fire
Nerf guns in the woods (as per request)
Outdoor activities
Hot chocolate and cookies while watching a film before bed
a sharing to friends and family
and of course…a sleepover!
Do check out the wonderful photos of the 2018 residential on our Facebook and Instagram page! Photographed by the wonderful Laura Barnes.
The sessions are aimed at Years 4 – 9 (ages 8-14). There is some negotiation on this for siblings, etc.
The residential includes all food (lunch on both days, all snacks and drinks, dinner on the Saturday night and breakfast on the Sunday morning, hot chocolate and cookies at bedtime), overnight accommodation for the Saturday night, all activities, resources and insurances. We will have a high adult:child ratio (1 adult : 5 children). For your reassurance, we will have exclusive use of the site and all our practitioners are fully DBS checked, insured, and first aid trained. Of course we will endeavour to cater to specialist dietary requirements.
Prices are strictly limited to 30 places and can be reserved with a £50 deposit. Payment can be spread out on a monthly basis.
Our residential filled extremely quickly last year and we now just have 5 places available.
This is an awesome Christmas present idea and I can email you a certificate to be opened on Christmas Day! What better way to treat yourself to a weekend away while we look after your babies! Drop off Saturday morning at 9am and pick up at 4pm on the Sunday where we will share the work we have created with you!
To book, just email office@revolutionpa.co.uk with the words "RPA RESIDENTIAL" in the title and ask for me to pop your child's name down. Once your request is received, you will have a provisional place. Once your deposit is paid, your place will be confirmed. Please note deposits are non refundable.
I love to lead the way with ground breaking ideas and exciting opportunities for our young people! How exciting is this?!