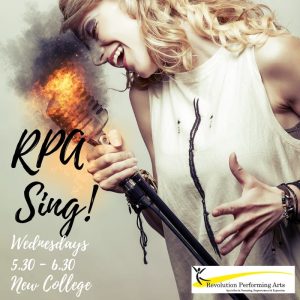 🎙🎙 **FREE TRIAL** LAUNCHING BRAND NEW RPA SING CLASS WITH GEORGIA FOR 8-16 YEAR OLDS! 🎙🎙
🎶
🎶
Learn breath control; improve pitch and rhythm; control of tone and microphone technique. Perform as a group and/or as a soloist or duo and if the inclination takes you…song writing!
🎶
🎶
🚀
Launching Wednesday 7th November! Come along and try out for **FREE!** at New College Rehearsal Studio, every Wednesday 5.30-6.30.
⚡
Same amazing RPA ethos – Have fun, no pressure to perform, feel respected & valued
🤩
Does your child want to feel fabulous, safe and confident.
✨
Is your child lacking self esteem?
👬
Would your child benefit from friendship?
😊
Would your child like to feel part of something?
💃
Do you want to channel your child's wonderful creative flair?
👏
Give your child amazing life skills for the future.
RPA STREET – EVERY TUESDAY
#nurturing
#dancing
#performing
#confidence
#parents
#RPA
#selfesteem
#children
#drama
#singing
#swindon
#afterschool
#childcentred
#clubs
#newcollege